New Jersey's
Immigration Lawyer

with a History of Success

For more than 20 years, The Woog Law Office has been successfully helping clients in the U.S. and around the world obtain temporary visas, green cards and U.S. citizenship. Laurie Woog, the firm's managing partner, has an outstanding reputation as a top immigration attorney who represents individuals, families, start-ups and established companies.

Laurie Understands

There are many challenges in navigating the immigration system. The complex and rapidly changing U.S. immigration laws can be confusing. Knowing how to prepare and submit the correct documentation for living or working in the U.S. can be difficult, and the smallest mistake can cause USCIS to deny your case. That's why it's essential to hire an experienced attorney who can get you the best outcome by properly preparing, filing and monitoring your case. Since our practice is devoted exclusively to immigration and naturalization law, we always know the latest developments. We're able to use our specialized industry knowledge to provide our clients with the most up-to-date and creative immigration strategies. Laurie's history of success in providing all types of immigration solutions makes the Woog Law Office the best immigration law firm to handle your case.
Personal Attention from a Top Immigration Attorney
We know your immigration case is unique, and your time is valuable. That's why prompt, individual attention is the hallmark of our immigration law practice. When you contact other law firms, you usually have to speak with a legal assistant. Some firms may never return your call at all. At Woog Law, Laurie promptly responds to all phone calls and emails. Laurie has earned her reputation as a top immigration lawyer not only because of her expertise, but also because she is always prepared to answer your questions, address your concerns, and keep you informed of all developments in your case. You can depend on the Woog Law Office to give your immigration case the individualized attention it deserves!
Citizenship

and

Immigration

Services

The Woog Law Office has successfully represented hundreds of clients in complex and challenging cases, including extraordinary ability cases (EB-1), national interest waivers (EB-2), difficult RFEs, and O-1s for scientists, artists, entrepreneurs and athletes. We also regularly handle H-1b, TN, L-1, R-1, I-140, adjustment of status, PERM labor certification, and marriage-based green card cases. Laurie will leverage her decades of experience to determine how best to prepare your immigration or citizenship case.
Why Immigrants Hire

the Woog Law Office
1. Strategic Counsel.
As an Ivy-League educated attorney who has focused exclusively on immigration law for more than 20 years, Laurie Woog has the specialized knowledge, experience and creativity to overcome the most complicated challenges from USCIS. She knows that even the best and brightest applicants can be turned away by the U.S. if their cases aren't compelling. Laurie uses her outstanding research and writing skills to build the most persuasive applications possible for start-up engineers, scientists, high-tech professionals, academics, award-winning athletes and artists who are eager to contribute their talents to benefit the US. Laurie Woog is capable of transforming even the most technical material into an easy-to-understand narrative that USCIS can approve.
2. Attention to Detail.
Laurie will take care of every detail, submitting a complete application that minimizes roadblocks and optimizes results.
3. Fixed-Fee Rates.
At the Woog Law Office, most cases are handled on a "fixed fee" basis, meaning you won't get charged by our office for things like phone calls and emails, so you can feel free to ask questions whenever you want.
4. Personal and Ethical Service.
While most firms treat immigration cases as if they were assembly-line products, at the Woog Law Office, located in Union County, New Jersey, we give every case individualized attention. Whether you are in the U.S. or abroad, Laurie is available to consult with you either in person or by phone or email. She will work with you to determine the best way to present your case to USCIS and customize your application based on your unique needs. What's more, Laurie will provide you with an honest assessment of your chances of success and will let you know if you don't qualify for a visa.
5. Compassionate Immigration Attorney.
Woog Law Office clients appreciate Laurie's personable, compassionate nature. Raj S., who hired Laurie to handle his immigration case, summarizes his experience: "She is patient, explains difficult issues well, provides guidance and recommendations, and is easy to communicate with – a critical issue since we were located in different states. Working with her was a remarkably stress-free experience."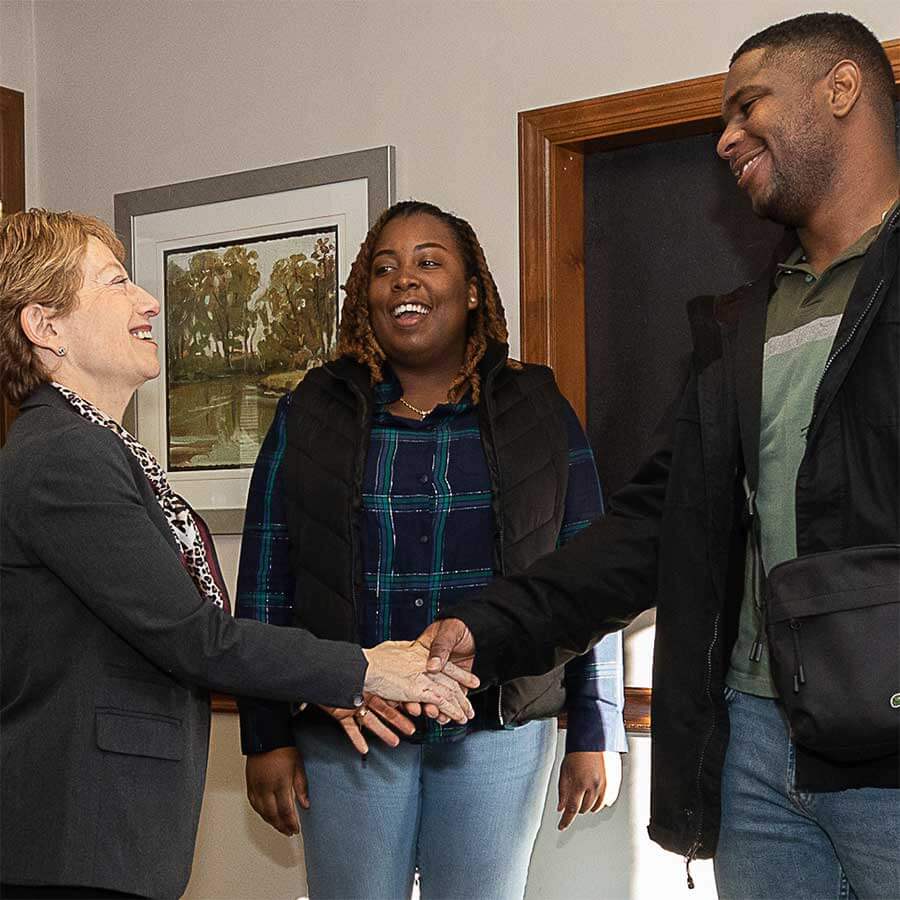 Your Immigration Case Is Important!
Laurie Understands
In today's rapidly changing immigration climate, missing a deadline, forgetting a document, or applying for the wrong type of visa could cause USCIS to deny your application. For the best results at an affordable price, contact the experienced immigration attorneys at Woog Law Office at 908-233-0076.
Confidential. No Obligation.